Logo Policy
All external publications must bear one of the official University of Richmond logos. The appropriate use of University logos is explained in the following guidelines.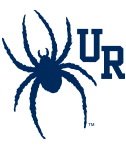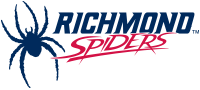 Logo Creation
Logos are created only by University Communications. Attempts to create new University logos, or to recreate existing logos, are not permitted.
No Manipulation
Except for proportionately scaling, none of the official University logos may be obstructed or manipulated in any way. This includes removing the white background from any part of the shield, inserting images into the squares of the shield and anthropomorphizing the spider logo.

Protected Area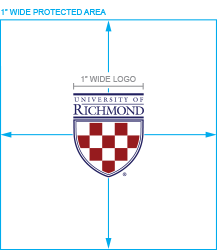 Nothing may appear within the protected area of any official University logo without approval from University Communications. This includes icons, other logos, names of groups, organizations, events, and programs. The protected area is equivalent to the width of the logo used and surrounds the logo on all four sides. (For example, if the logo you are using is 1-inch wide, nothing may appear within 1 inch of the logo on any side.)
Trademark
Logos must appear with the appropriate "TM" or "R" notation in order to establish and protect trademark.

 Because the "TM" or "R" cannot be legibly rendered on our website, a message regarding trademarks appears in the site's legal notices.
Some documents, such as diplomas and invitations, are excluded from this requirement so as not to compromise the formality of their design.
Minimum Size
The UR shield may never appear smaller than a half-inch vertically. This applies to all logos that contain the shield.
University departments, offices, and units not within a school
The official logo system for departments, offices and units not within a school includes the official name of the department, office or unit and the University of Richmond shield. Such logos may be used on merchandise or print materials. However, they may not be used on stationery, websites, or electronic newsletters. These logos are created and approved by University Communications.

University Seals
Use of the Presidential Seal is reserved for the President's Office.
The Westhampton College and Richmond College seals may be used by those colleges and on materials intended for their students and alumni.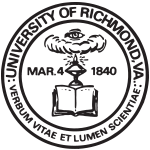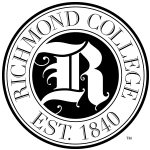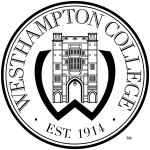 Unauthorized Use
University Communications works with our licensing partner and law enforcement agencies to enforce our trademark rights. The University is committed to the protection of the University of Richmond's marks and the reputation they represent.
Use of University of Richmond trademarks on merchandise is not permitted without written consent from Collegiate Licensing. Any information regarding possible trademark infringement should be reported to Collegiate Licensing via Lee Chaharyn, special projects manager, 804-289-1742.
Student Group Eligibility
To be eligible for a university logo, student groups must be an official extension of a non-academic administrative unit or office. The group also must have a designated university staff member who is responsible for ensuring the completion, quality, and continuation of its work.
Examples of eligible groups:
UREMS, as an official extension of University Police
The Spider Board, as an official extension of Student Activities